Terms of service
Definitions.

The terms "You" and "Your" mean the individual or entity that has registered as a user of the MusicExtremer.com website.

The term "Work" or "Works" shall mean the works of authorship, as that term is used in 17 U.S.C. §102(a), that You submit for distribution by Morse Code (244 Fifth Ave Suite 1449,New York, NY 10001) through the use of this Website, along with any metadata or other data, such as copyright management data, necessary for Morse Code to distribute, license or sell the Works. Works may include musical works, spoken word works and artwork, such as album covers.

The term "Website" refers to the website maintained at www.MusicExtremer.com and such other URL's that Morse Code may, from time to time, designate.

The term "Retailer" shall mean an entity to whom Morse Code provides copies of the Works for the license or sale to consumers, including entities such as Apple iTunes, Emusic, Amazon, Napster, Rhapsody and MediaNet.

Grant of Distribution Rights.

During the Term of this Agreement, You agree that Morse Code shall be your non-exclusive representative for the distribution, license and sale of your Works. Morse Code will seek to distribute your Works to various Retailers for subsequent license or sale to consumers. You authorize Morse Code to reproduce and copy your Works into any digital format necessary for the effective distribution of the Works. Morse Code does not represent, warrant or guarantee that any Retailer or customer will purchase or license any of Your Works.

You authorize Morse Code to promote the distribution, license and sale of your Works through means deemed reasonable by Morse Code, including making portions or the whole of your Works available for performance on the Website. You further authorize Morse Code to use, and to authorize Retailers to use, the names, approved likenesses of, and biographical material concerning, the authors, performers and producers of any Works, for the purpose of promoting the distribution, licensing or sale of the Works. Morse Code has no obligation to promote the distribution, licensing or sale of the Works beyond making them available for distribution in the normal course of its business.

The distribution rights granted by this Agreement include the right by Morse Code to either itself or through others to distribute, license and sell Your Works in both unrestricted and restricted formats (e.g., in a format that limits performance of the Work to a particular device or for a particular time period):

by permitting consumers to download copies of Your Works from an internet website;

through non-internet based distribution points that can burn compact disc copies of the Works or provide downloads to performance devices;

in compilations of individual Works as selected by You (e.g., an "Album"), individually (e.g., a "Track") or compilations selected by a third party;

for use with telecommunication services, such as cell phone ringtones;

by making Your Works available for a web-based performance (e.g., on-demand streaming or internet based "radio")

Fees and Payment.

You may upload Your Works to this Website without any monetary obligation to Morse Code, but Morse Code will not begin distribution of Your Works until you provide Morse Code with the appropriate billing information and pay to Morse Code the fees outlined in Morse Code's current Statement of Fees, as amended from time to time, which may be found at www.MusicExtremer.com/prices. Morse Code may change its fee schedule upon 30 days notice, which may be given by e-mail, or by posting a notice on the Statement of Fees page on this Website. If You do not terminate this Agreement before the new fees take effect, You will be deemed to have agreed to the new fees.

Upon Your filing of a Royalty Withdrawal Request with Morse Code, Morse Code will forward to You 80% of the amounts Morse Code has received from Retailers through the end of the calendar month preceding the date of your request for the license or sale of Your Works; provided, however, that Morse Code is not obligated to issue any payment until the balance due You exceeds $25. Morse Code is not obligated to make any additional payments to You, including payments to which you might be entitled for public performances of Your Works if you register with ASCAP or similar performance rights entity. Morse Code is not obligated to make any payments to You for Works submitted in violation of the terms of this Agreement. You are responsible for reporting all income received pursuant to this Agreement to the appropriate taxing authorities. Morse Code will not issue a 1099 or other revenue report to You.

You must immediately reimburse Morse Code for any amounts paid to You by Morse Code pursuant to paragraph 3(b) that any Retailer later requires Morse Code to repay or reimburse through chargebacks or otherwise ("Chargebacks"). If You fail to promptly reimburse Morse Code, Morse Code may suspend performance under this Agreement and deduct Chargebacks from any future payments due You.

Morse Code may delay payment of amounts due You pursuant to paragraph 3(b) pending its investigation of any unusual patterns of sales activity detected in connection with Your Works. You agree to cooperate in Morse Code's investigation, including disclosing to Morse Code methods You may be using to promote or sell your music, as well as the names and contact information for promoters, pumpers, credit card and/or gift card holders, and similar information.

If you need to cancel your order, contact info@musicextremer.com Please include the order number that you would like to cancel. If you've already completed an order and wish to add a new item to that order, you'll need to cancel that order and place a new order. Please note that if your order has already been processed, you may not be able to cancel it or modify it.

Term and Termination.

This Agreement shall commence on the date you upload any Work to this Website and shall remain in effect until terminated by one of the parties according to its terms. You may terminate this Agreement at any time, with or without cause, upon 30 days written notice by sending an e-mail to info@MusicExtremer.com. Morse Code may terminate this Agreement at any time, with or without cause, upon 30 days written notice by sending an e-mail to the address you provide upon registration. This Agreement's expiration shall not relieve either party from any obligations incurred prior to or during the term of this Agreement.

You may discontinue the licenses and authorizations granted by this Agreement with respect to a single Work or multiple Works without terminating the Agreement by providing written notice to Morse Code by e-mail to info@MusicExtremer.com and paying an administrative fee of $25 per Work, or such other amount as may be specified in Morse Code's Statement of Fees. Morse Code will waive the administrative fee if the Work has been published by a Retailer for at least eight months. Upon notice and receipt of the administrative fee, if applicable, Morse Code will notify all Retailers to whom the discontinued Work has been distributed that Morse Code is no longer an authorized distributor of the Work, and that the Retailer no longer has authorization from You and Morse Code to offer the work for license or sale. Any discontinuation of rights to distribute a Work shall not affect any transactions with respect to the Work that were completed prior to the effective date of the notice of discontinuation.

Representations and Warranties.

You represent and warrant that You own or have the worldwide rights to enter into this Agreement in connection with the Works, including that You have the necessary and full authority to act on behalf of any and all owners of any right, title or interest in and to the Works. You represent and warrant that the licenses and authorizations that You are granting pursuant to this Agreement do not infringe or violate any third party's intellectual property or other rights. You agree that You will obtain and pay for any and all clearances and licenses that may be required for the authorizations or licenses You grant in this Agreement, including, without limitation, royalties or other amounts due to third parties, such as other performers, authors or co-authors, owners or co-owners, artists or producers, license fees, wages and consulting fees.

You represent and warrant that (i) You are at least 18 years of age and have full authority to enter into and fully perform Your obligations under this Agreement, (ii) You have obtained all necessary third-party consents, licenses and permissions necessary to do so and (iii) You will comply with all applicable laws, rules and regulations.

MORSE CODE PROVIDES THIS WEBSITE ON AN '"AS IS" BASIS. MORSE CODE MAKES NO REPRESENTATION OR WARRANTY THAT:

THIS WEBSITE IS APPROPRIATE OR AVAILABLE FOR USE IN ALL LOCATIONS;

ACCESS TO OR USE OF THIS WEBSITE WILL BE UNINTERRUPTED, TIMELY, SECURE, OR ERROR-FREE;

THIS WEBSITE IS FREE OF ALL VIRUSES, WORMS, TROJAN HORSES AND OTHER ITEMS OF A DESTRUCTIVE NATURE;

THIS WEBSITE IS FREE FROM ALL ERRORS OR TECHNICAL INACCURACIES, OR THAT ANY ERRORS IN THE WEBSITE WILL BE CORRECTED;

THIS WEBSITE OR ITS CONTENT IS MERCHANTABLE OR FIT FOR ANY INTENDED PURPOSE (MORSE CODE SPECIFICALLY EXCLUDES ANY WARRANTY OF MERCHANTABILITY OR FITNESS FOR A PARTICULAR PURPOSE);

THIS WEBSITE WILL REMAIN UNCHANGED OR THAT IT WILL ALWAYS RETAIN ITS CURRENT FUNCTIONALITY.

Morse Code makes no representations whatsoever about any other Internet site that you may access through this one. When you access a non-Morse Code Web site, you acknowledge that it is independent from Morse Code, and that Morse Code has no control over the content on that site. In addition, a link to a non-Morse Code site does not mean that Morse Code endorses or accepts any responsibility for the content, or the use, of that site. You must take appropriate precautions to ensure that whatever you select for your use is free of items such as viruses, worms, Trojan horses and other items of a destructive nature.

You assume all risk for any damage to Your computer system or loss of data that results from Your use or access of this Website, including any damages resulting from worms, Trojan horses and other items of a destructive nature.

Limitation of Liability.

TO THE FULL EXTENT PERMITTED BY LAW, MORSE CODE IS NOT LIABLE FOR ANY DIRECT, INDIRECT, PUNITIVE, SPECIAL, INCIDENTAL, CONSEQUENTIAL, OR EXEMPLARY DAMAGES (INCLUDING, WITHOUT LIMITATION, LOSS OF BUSINESS, REVENUE, PROFITS, GOODWILL, USE, DATA, ELECTRONICALLY TRANSMITTED RECORDS OR DOCUMENTS, OR OTHER ECONOMIC ADVANTAGE) ARISING OUT OF OR IN CONNECTION WITH THE WEBSITE, EVEN IF MORSE CODE HAS PREVIOUSLY BEEN ADVISED OF, OR REASONABLY COULD HAVE FORESEEN, THE POSSIBILITY OF SUCH DAMAGES, HOWEVER THEY ARISE, WHETHER IN BREACH OF CONTRACT OR IN TORT (INCLUDING NEGLIGENCE), INCLUDING WITHOUT LIMITATION DAMAGES DUE TO:

THE USE OF OR THE INABILITY TO USE THIS WEBSITE;

STATEMENTS OR CONDUCT OF ANY THIRD PARTY ON THE WEBSITE, INCLUDING WITHOUT LIMITATION UNAUTHORIZED ACCESS TO OR ALTERATION OF TRANSMISSIONS OR DATA, MALICIOUS OR CRIMINAL BEHAVIOR, OR FALSE OR FRAUDULENT TRANSACTIONS;

CONTENT OR INFORMATION YOU MAY DOWNLOAD, USE, MODIFY OR DISTRIBUTE; AND ANY OTHER MATTER RELATING TO THE SERVICES OFFERED THROUGH THIS SITE.

Indemnification.

You agree to defend, indemnify and hold Morse Code, and its subsidiaries, affiliates, officers, directors, agents, employees, contractors and representatives harmless from any claim or demand, including reasonable attorneys' fees, made by any third party due to or arising out of your access to or use of this Website, or any claim or allegation that Your Works infringe the intellectual property or other rights of a third party. Upon receipt of a claim that any Work infringes a third party's rights, Morse Code reserves the right to suspend distribution of the Work, and forwarding of any sales data or payments received from Retailers, pending resolution of the claim. Morse Code reserves the right to select counsel of its choice for the defense of any claim covered by this paragraph. You shall advance defense costs as necessary to fund the defense of any claims. You agree to cooperate in the defense of any such claim.

Ownership of Works.

Subject to the terms and conditions of this Agreement and any other agreement between us, Morse Code acknowledges that all right, title and interest in and to the Works remain with You.

Restrictions on Use.

You may not use this Website to publish, post, distribute or disseminate any information or content that:

You do not have a legal right to publish or transmit (such as trade secret or other proprietary information, inside information, information subject to a confidentiality agreement or personal information about a third party);

that infringes any copyright, trademark, patent, trade secret, or other proprietary right of a third party;

is unlawful, harmful, threatening, abusive, harassing, tortious, defamatory, vulgar, obscene, libelous, invasive of another's privacy, hateful, or racially, ethnically or otherwise objectionable;

contains software viruses or any other computer code, files or programs designed to interrupt, destroy or limit the functionality of any computer software, hardware or telecommunications equipment; or

violates any applicable laws or regulations.

You may not falsely identify yourself as any other person or entity to Morse Code or otherwise misrepresent your affiliation with a person or entity, impersonate another user, forge headers or otherwise manipulate identifiers (including URLs) or disguise the source or origin of any information. Upon request by Morse Code, You will provide proof, such as a copy of a driver's license, passport, state identification card or other document acceptable to Morse Code to verify Your identity.

You may not publish, post, distribute or disseminate any unsolicited or unauthorized advertising, promotional materials, spam, unwelcome e-mail, or any other form of solicitation.

You may not collect or store personal data about other users of this Website.

Governing Law and Dispute Resolution.

Any controversy or claim arising out of or relating to this Agreement, the use of this Website, or otherwise related to the parties' business relationship shall be settled by binding arbitration in accordance with the commercial arbitration rules of the American Arbitration Association. Any such controversy or claim shall be arbitrated on an individual basis, and shall not be consolidated in any arbitration with any claim or controversy of any other party. The arbitration shall be conducted in the City of Wilmington, Daleware, and judgment on the arbitration award may be entered by any court having jurisdiction thereof.

Notices.

Any notice required or permitted by this Agreement shall be given to Morse Code at info@MusicExtremer.com. Upon registration, You will provide Morse Code with an e-mail address at which Morse Code can provide you with any notices required or permitted by this Agreement. In addition, You agree that Morse Code can communicate all matters related to Your business relationship with Morse Code to that e-mail address, including billing related matters. You may change Your e-mail address for notices by updating your online user account. Morse Code may change its e-mail address for notices by sending you an e-mail or posting the new e-mail address on the Website.

Amendments.

Morse Code reserves the right to revise or modify this Website, the services offered through this Website and this Agreement at any time, with or without notice. Although Morse Code may attempt to notify you when major changes are made to this Agreement, you should periodically review the most up-to-date version at www.Morsecoderecords.com/terms-of-use Your continued use of this Website following any modification or revisions to this Website or this Agreement will be deemed your acceptance of and agreement to the modifications or revisions. Nothing in this Agreement shall be deemed to confer any third-party rights or benefits.

Miscellaneous.

You and Morse Code are independent contractors, and no partnership, joint venture, employee-employer or franchiser-franchisee relationship is intended or created by this Agreement.

Morse Code may suspend its performance under this Agreement if as a result of a cause beyond its control, such as fire, explosion, flood, hurricanes or war, Morse Code's performance is not commercially possible.

If any provision of this Agreement is held to be invalid or unenforceable, it shall be struck and the remaining provisions shall be enforced. Morse Code's failure to act with respect to a breach by You or others does not waive Morse Code's right to act with respect to subsequent or similar breaches. This Agreement sets forth the entire understanding and agreement between the parties with respect to its subject matter.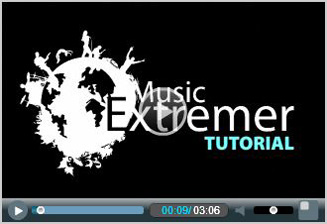 Get ready for a revolution in the music industry.
We are an independent website dealing in the distribution of music on the Internet. Our forward thinking solutions pretty much guarantee that your music reaches all four corners of the globe. We work closely with such multinational retailers such as iTunues, Napster, and Rapsody.
In the first months after the launch of Music Extremer, you will be able to release your music
via ME, in all shops for no more than $9,99, with no strings (i.e. monthly payments) attached. And it can all be done with a little more than a few clicks of your mouse.
To find out more about Music Extremer,
check ou
t the tutorial on our website, or on
Youtube
.
Get a free acount
, fill the form and after clicking on 'Create Account', you will receive an e-mail with instructions on how to activate your account.