Privacy policy
Music Extremer policy is to protect personally identifiable information provided to us at the Music Extremer Site from unauthorized access. Personally identifiable information means data that can identify you, including your name, address, telephone number or e-mail address. Music Extremer will notify consumers using or visiting this website of any material changes to Music Extremer website privacy policy by posting such changes in the text of such revised privacy policy and posting such revised privacy policy on this website.
Information Collected
You can visit the Music Extremer Site without providing any personally identifiable information. However, we may need to collect such data from you for a specific purpose, such as when you request information, also when you want to register, sell your music, and earn money we need information like: your name, address, email address, phone numbers, account and credit card information, PayPal account names of your song(s) and your album(s), year of production, name of the person(s) that owns and controls the rights to each song, album or artwork. . There are also portions of the websites that permit you to register for the purpose of purchasing products or services and personally identifiable information will be collected for that purpose.
Use of Collected Information
Music Extremer uses the personally identifiable information that you provide only to respond to your inquiry or process your request. Music Extremer may need to share this information with companies that have been hired to perform services, however, those service providers are required to use the information only for the service they have been hired to provide (e.g., when you pay for a purchase with a credit card). Music Extremer does not share personally identifiable information with any third parties for marketing use. Music Extremer will release such information if you direct us to, if we are required by law to do so, or under other limited circumstances as permitted by law.
Security
The Music Extremer Site uses various systemic and administrative means to protect personally identifiable information from unauthorized or improper access. Within Music Extremer, access to such information is limited to those having a need to know in order to process your inquiry.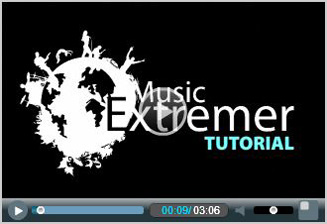 Get ready for a revolution in the music industry.
We are an independent website dealing in the distribution of music on the Internet. Our forward thinking solutions pretty much guarantee that your music reaches all four corners of the globe. We work closely with such multinational retailers such as iTunues, Napster, and Rapsody.
In the first months after the launch of Music Extremer, you will be able to release your music
via ME, in all shops for no more than $9,99, with no strings (i.e. monthly payments) attached. And it can all be done with a little more than a few clicks of your mouse.
To find out more about Music Extremer,
check ou
t the tutorial on our website, or on
Youtube
.
Get a free acount
, fill the form and after clicking on 'Create Account', you will receive an e-mail with instructions on how to activate your account.